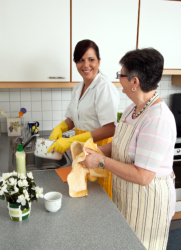 When even simple housekeeping tasks can become unmanageable due to old age or disability, our homemakers can help. Living in an untidy home can contribute to feelings of depression, isolation, and hopelessness. It can even be dangerous for you, increasing your risk of injury or illness.
Our homemaker services help create a safe, clean, and comfortable living environment so you can live at home independently with a greater sense of confidence and security. Spend your precious time with your family and leave the homemaking tasks to us.
Responsibilities of a Homemaker
Laundry and changing bed linens
Ironing
Meal planning and preparation
Grocery shopping
Kitchen and bathrooms cleaning and organization
Vacuuming and sweeping
Running errands
Pet care and plant care assistance
Accompaniment on appointments and travels
Eliminating tripping hazards and safe-proofing the home
Please let us know your queries and concerns about our services by calling or visiting us at our location. You may also send us a message on our Contact Us page.